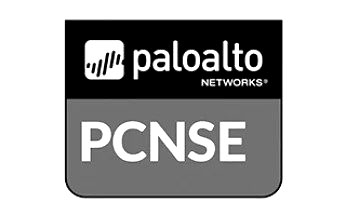 Palo Alto Networks Certified Network Security Engineer (PCNSE)
Required Exam
PCNSE-8
Recommended Training
Palo Alto Networks – PCNSE
Overview
WHAT YOU'll LEARN IN THIS COURSE?
PaloAlto firewalls are true Next Generation firewalls built from the ground up to address legacy firewalls issues. It is the first firewall platform to make decisions based on applications not just ports and protocols. This class guide you through the configuration of different features and how to practice on VMware. We willcovers many topics required for PCNSE7 or PCNSE8 exams and new topics are added frequently.
This course dives deeper into Palo Alto firewalls policies and network configuration to give the students a clear understanding on several topics. Topics covered include Security Policies configuration, SSL Decryption, Routing configuration, IPsec configuration, IPv6 configuration, High Availability configuration, QoS and other real world configuration examples.
We are providing onsite and online class will help in preparing the student for the PCNSE certification by covering topics in the depth that Palo Alto expects the candidates to know.
TECHNOLOGY AREAS
Core Network Security
WHO SHOULD ATTEND?
Security Professionals responsible for designing, administration, supporting enterprise security infrastructure using PaloAlto may take this course to enhance their capabilities.
Security Professionals aspiring to appear for PCNSE8 certification exam can take this course for a methodical & through preparation for the exam.
PREREQUISITE
Students needs to be familiar with firewall concepts
Students needs to understand Networking Fundamentals
Students need to understand basic networking
Course Outline
Understand Palo Alto Firewalls Deployment Methods
Understand how to deploy Palo Alto Firewalls in VMware
Understand Palo Alto Firewalls Security Policies
Understand Palo Alto Firewalls NAT configuration
Understand Palo Alto Firewalls Network Configuration
Understand User ID Integration
Configure User ID integration using User ID Agent
Configure Captive Portal to authenticate users
Understand Captive Portal different methods including, redirection, transparent and SSO with examples
Understand the difference betwen NAT Source, Destination, UTurn
Understand security zones and traffic processing in PaloAlto Firewalls
Understand the packet flow through the PaloAlto Firewalls
Understand Threat Prevention capabilities of the PaloAlto Firewalls
Understand AntiSpyware, AntiVirus, IPS configuration
Understand AntiySpyware and DNS Sinkholing
Configure AntiSpyware, Antivirus and IPS
Understand PaloAlto firewall AntiSpyware policy using example configuration
Understand how to configure wildfire
Understand how to configure Data Leakage Protection
Configuring SSL Decryption
Understand SSL Decryption
Understand SSL decryption using a PaloAlto firewall SSL decryption example
Understand how to prevent Split Brain situation with firewalls in Active / Passive HA
PaloAlto Firewalls U-turn NAT configuration example
Understand the difference between Inbound and Outbound proxy
Understand the concept of Virtual Routers
Configuration of BGP and OSPF example
Configuration of multiple ISP with different failover scenarios
Configuration of policy based forwarding using different scenarios
Configure VPN IPSEc L2L tunnel on Paloato Firewall with different scenarios
Understand the difference between IKEv1 and IKEv2 and how to deploy Palo Alto firewall with IKEv2 and the benefits
Understand the difference between IKEv1 main mode and aggressive mode with scenarios
Understand IKE PFS and how to configure it
UnderstISEand and Configure High Availability Active / Passive
Understand and Configure High Availability Active / Active with Floating IP Arp load sharing
Understand Active Active NAT configuration with examples
Understand and Configure IPv6 on PaloAlto Firewalls
Understand how to deploy DHCPv6 Relay on PaloAlto firewalls
Understand and Configure IPv6 on Palo Alto firewalls with examples.
Understand How to configure IPV6 NPTv6 and NAT64
Understand how to configure Palo Alto firewall in Azure with example
Understand Panorama Concepts, device groups, templates, template stacks
Understand QoS configuration Concepts and how you can configure QoS Marking
Understand QoS classification and markings
Understand QoS for IPSEc tunnel, bidirectional QoS enforcement, QoS markings and QoS copy Tos Header
Understand how to deploy Palo Alto firewall in Google Cloud